Welcome to the Task Group 47-A Flagship USS Merlin!

"Magic is believing in yourself, if you can do that, you can make anything happen."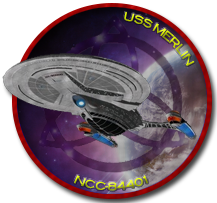 It has been nearly a decade since the Hobus star exploded destroying Romulus and causing various factions, including the Klingons, to prey on the fractured empire. The year is 2393 and the USS Merlin has been launched at a time of great instability. The Merlin is an Excalibur class ship designed as not only a command carrier, but, as a deep space explorer as well (referred to by her crew lovingly as a warp capable starbase). The Merlin has been outfitted with everything she and her crew will need, from defense forces to the latest scientific equipment to the largest diplomatic area that could fit on the ship and even carries a compliment of civilian specialists. This beautiful giant has been given a twofold assignment; the first to protect an unknown area of space at the farthest borders of the Romulan Empire; recently acquired in the Federation treaties. The second to keep the peace, with a renewed focus on exploration and discovery.

Here on the Merlin we strive for 1 thing: to have fun writing. We do this by making sure our stories and writing is the best we can make it. None of us are professional writers, however, we still reach for that excellence. As you look around and think about joining what has become our online family, remember, you won't be joining just the Commanding Officers sim, you'll be joining the crew's sim and it will become your sim too, because it is not just one person who makes a sim, but the simmers who make it a sim. So, look around and read our stories then slip into a uniform and jump in!















Commander John Barstow
Commanding Officer
USS Merlin
Commanding Officer
Task Group 47-A

Commander Kachiko Bayushi
Executive Officer
USS Merlin

Lieutenant Commander Cale Llewellyn
2nd Officer
USS Merlin
Obsidian Fleet Banner Exchange
Latest News Items
Posted on Sunday 17 June 2018 @ 02:03 by Commander John "Apollo" Barstow, M.D. in General News
Hey All,

So, we hit on mission days a little bit ago but I kind of stayed away from them because I have a hard time with them. However, in looking at the calendars Frank has made up I am going to use the mission days and I'm going to use the following system:

1 Mission Day = 2 OOC (out of Character) Weeks

1st 3 days of 1st week = Mission Day Midnight – 8 am
Next 4 Days- 8 am – 5 pm

2nd Week:

1st 3 Days – 5pm – 8pm
Next 4 days – 8 pm-midnight

So, it'd look like this:

1st Week OOC:

Sun, Mon, Tues: midnight-8am
Wed, Thrus, Fri, Sat: 8 am-5pm

2nd Week OOC:

Sun, Mon, Tues: 5pm-8pm
Wed, Thrus, Fri:, Sat 8pm-midnight


That should help, I hope, make the days a bit clearer. I will also update the infobox (where your picture and the alert are) with the current MD and time of day. Now, there is a little wiggle room here, I gave just time frames to account for sleeping etc, so, if you log early morning (5, 6, 7 etc) you're still good :).

So, starting tomorrow we will be MD2, Overnight (midnight-8am). Everyone good with all that? :).

One other thing on the timeline, because I started us off with Merlins history in tact we are currently in 2494 for the sim year (I've been doing some looking around the site lol). I'll send this out through the news on the site too, but, I wanted to make sure everyone got this :)


Andrew

Posted on Tuesday 12 June 2018 @ 21:23 by Commander John "Apollo" Barstow, M.D. in Sim Announcement
Hey Guys,

Some of you may be experiencing a weird issue with it seeming like your posts are not being saved. The issue is being caused due to the name servers (the behind the scenes servers that store the site). I jumped the gun a little bit yesterday because they had not been updated fo our domain (uss-merlin.com) when I sent the all clear. So, some of you may be working with cached, or saved, versions of the site. You'll need to clear your cache, close your browser and reopen to get to the correct site.

If you run into any issues after that let me know, I'll give premium tech support for free :D.


Andrew
Posted on Thursday 7 June 2018 @ 22:59 by Commander John "Apollo" Barstow, M.D. in Website Update
Hey All,

The site host is going to be migrating their servers starting tomorrow. During this time the site will be unavailable. This will last until, at most, Monday. Due to this I am going to be putting the site in maintenance mode so that I can do a final back up. This will make it so you cannot log in, this is planned and expected :).

I'll send out another note as soon as the site is back up :D.


Andrew
Posted on Wednesday 6 June 2018 @ 07:25 by Commander John "Apollo" Barstow, M.D. in General News
Hey Guys,

This week our web host is going to be changing servers to a new server provider. This means the site will be out in the next few days, but, it will be back. I am making back ups of the site and database, however, without an exact date some things may get lost. Please make sure you keep you log update notices as well as any logs you post. I keep everything as well, but, it's safer for y'all to hold back ups as well in case something happens :).

Thanks guys!!


Andrew
Posted on Sunday 3 June 2018 @ 07:45 by Commander John "Apollo" Barstow, M.D. in Sim Announcement
Hey All,

I was researching for a project today and some of that research crossed back into simming :). So, I added some information to the wiki and came across more information I'd like to bring to everyones attention [[yes, I have shiny thing syndrome, want to distract just put something shiny in front of me :P). Anyways, I digress.

The items I want to bring to your attention are these:


Now, the first item describes what we look for in the bios [[and even gives the code if you'd like to add rank images to your bio.
The next items are the sim promotion guidelines. These are what we use when we are looking at promotions. Doing it that way allows us to promote evenly and fairly. In an effort to be transparent as we can we put the items we look at here.
50 things to write about is there to help you get log ideas if you're struggling to find something to log or just have writers block.
Finally, Average ages is the one I added tonight. One thing that gets run into a lot in simming is appropriate age for the rank. You end up with 19 year old flag officers and 20 year old Captains. So, what I did was I looked into the average age for each rank at military.com where a purported former US Air Force Colonel listed where each rank was age wise, give or take. With his information, and a few tweaks of my own to fit better here, Now, this is not ridged, even in real life he did state he knew at least 2 E9's that were in the 17-24 range. However, I do ask that you try to be at least close to the age ranges listed. This does count with having an updated bio, which is a requirement on all promotion levels. If you would like a special exception for character age , for example your character was allowed in at 16, then just let us know and make sure reason in your bio.
Now, you may ask what does it matter? We pretend to fly around in starships, realism is already gone. Well, even though we do even the starship aspect has its roots in real world science and scientific theory. Age vs rank is kind of the same thing, it is a real world element we bring into the game to add that spin of realism to it :). So, please don't think that an attempt to be controlling, it just enhances the game and keeps away from superhero syndrome, where every officer gets to Captain by 25, JJ isn't directing us, after all (to much? :P).
Before I get hurt I do like those movies too ;D. Anyways, please, check out those links.
Andrew
Latest Mission Posts
Mission: Academy Days
Posted on Thursday 7 June 2018 @ 23:09 by Commander Kachiko Bayushi & Lieutenant Commander Save'ena (Sav) Tillatix
ON:

Savin entered the Starfleet Central Intelligence Building Secure 4. He had worked through some discrepancies in the evidence through the night last night before calling it quits at midnight. He hoped that Captain Bayushi had found clues at the Dance club. But, if they were a nightclub with great…
Mission: Academy Days
Posted on Thursday 7 June 2018 @ 23:02 by Commander Kachiko Bayushi & Lieutenant Commander Save'ena (Sav) Tillatix
ON:

Sav, dressed in her Cadet Formal Whites, was sitting at the defendants desk with her assigned Defense Lawyer, Ensign Gabin Dubois, and her student Advisor Captain Bayushi Kachiko, Marine. Sav kept herself still, trying to keep her fears tamped down to a manageable level. This all had happened a…
Mission: Lost Souls
Posted on Thursday 7 June 2018 @ 18:42 by Lieutenant Commander Cale Llewellyn DSci & Commander John "Apollo" Barstow, M.D.
John crawled out of the Jefferies tube onto the main engineering deck and leaned on the bulkhead, "I'm getting to soft, ugh," he muttered before pushing off the bulkhead and moving forward.

It wasn't long before he came to the engineering bays main doors. The doors were cracked open, just…
Mission: Academy Days
Posted on Thursday 7 June 2018 @ 11:12 by Lieutenant Commander Save'ena (Sav) Tillatix & Commander Kachiko Bayushi
ON:

The club name in the gotten from the Girl's and Seniors was The Dancing Divito. It was even on the flyer that was handed out on Campus. The flyer, though, was found to have only been handed out to pretty, first year, female cadets. Older year cadets never were…
Mission: Academy Days
Posted on Thursday 7 June 2018 @ 06:45 by Commander John "Apollo" Barstow, M.D. & Petty Officer 2nd Class Pete Burg
The former Master Chief Petty Officer of Starfleet walked shakily off the transporter pad in the security complex of Starfleet Academy. The man looked around and smiled, as he took a breath. The Academy always had that new uniform and new carpet smell, different from most starships and bases where…
Latest Personal Logs
Posted on Thursday 12 April 2018 @ 15:29 by Commander Kachiko Bayushi
"Computer," Kachiko sighed, "begin recording personal log."

"Lieutenant Colonel Bayushi Kachiko, personal log stardate 95879.03," the tiny white-haired woman paused briefly to collect her thoughts. "We are soon approaching our destination, which I cannot discuss just yet. I am looking forward to the completion of this endeavor, as Reiko is…
Posted on Sunday 9 July 2017 @ 04:21 by Lieutenant Commander David Tan
Personal Log :: SD 239407.08 - 22:50 hrs .....

We have been at the location conducting tests on the Star for some time. This is causing no hardship to the Merlin or the crew in general, we are more than equipped to carry out the task ahead and are now…
Posted on Thursday 6 July 2017 @ 23:15 by Lieutenant Commander Save'ena (Sav) Tillatix
ON:

==== Save'ena's Quarters ====

Sav sat there in her quarters. She rarely did personal logs, yet, this one seemed... appropriate. Several things had happened, all of them rather joyous, well, for her.

She touched the interface panel.

===== Lieutenant Commander Tillatix Personal Log =====
===== Direct Access Initiation Mode…
Posted on Sunday 18 June 2017 @ 20:44 by Lieutenant Commander David Tan
Personal Log :: SD 239406.18 - 14:20 hrs ...

A couple of hours ago my Daughter, Mackenzie, told me about her dream from the night before:

I was absolutely astonished to hear she had carried out a landing of an Intrepid Class Starship, not only once but twice, then carried…
Posted on Saturday 17 June 2017 @ 17:02 by Commander Melody Jones
ON:

It's with mixed feelings I start this.....

Begin Commanders Personal log Stardate 239406.5


Someone once told me "You're used to winning, and you're not truly a leader till you've lost."

Well, today I feel like a leader. I've personally contacted the families of all eight who lost their lives.…